Doggie Bandanas with a Southern Twist
We really love dogs. They're our family, our best friends and our partners in crime. They're warm, loyal cuddlers who adore us no matter what, and brighten every day with their extra-large personalities (regardless of their actual size). That's why we think dogs deserve to show their indomitable spirit, and their personal style, to the world.
Josephine Grace makes fashionable accessories that show off your pup's attitude, lifestyle and spunk. Each one is hand-made in New Orleans with a sense of Southern style to suit the most avid and courageous hunting retriever, your diehard super-fan tailgate buddy, a summertime porch swing snuggle bug, and every wet nose in between.
Your best bud is about to be the envy of the dog park.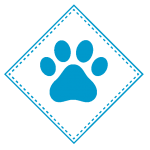 If there is anything we can do or if you'd like to share something with us, please give us a call at (504) 920-0011 or send us an email to info@josephinegracepuppycouture.com
What may we help you with?